Will Thomas was a contestant on season 9 of So You Think You Can Dance. His genre is contemporary. He was eliminated on August 29, 2012.
Biography
Edit
Will was born in Rochester, Michigan and grew up in Troy, Michigan. He graduated from Avondale High School in 2011. He has been dancing since he was in the 6th grade.
So You Think You Can DanceEdit
Will first auditioned for season 9 in Los Angeles, California.
Main article: Season 9 performances
Meet the Top 20 (June 27, 2012)
Edit
The judges tell Will he's in the Top 20. He dances a contemporary routine with Alexa Anderson, George Lawrence II, and Amber Jackson. The piece was danced to "We Found Love" (BBC Radio 1 Live Lounge) by Jessie J. and choreographed by Tyce Diorio. Will is told by Nigel that although he is tall, he has to learn to keep up with the smaller dancers. Mary praises him by telling him that he was there for his group membes every step of the way. Guest judge Zooey Deschanel praises the group for their teamwork.
Week 1 (July 11, 2012)
Edit
In the package, the dancers must describe themselves in nine seconds. Will is paired up with Amelia Lowe and assigned a jazz hop by Tabitha and Napoleon D'umo to "The Lovecats" by The Cure. Guest judge Kenny Ortega praised Tabitha and Napoleon for their creativity and the mash-up of styles and thought the routine was fun, charming, and beautifully executed. Nigel tells them that personality is so important and that Will is just plain crazy. He also tells them that this piece was terrific, memorable, and danced brilliantly.
Week 2 (July 18, 2012)
Edit
Will and partner Amelia danced a contemporary by Sonya Tayeh to "3326" by Ólafur Arnalds. Mary praises Sonya for the beautiful routine and tells the dancers that they brought the piece to life. She tells Will that he's rising to the occasion. Guest judge Adam Shankman proceeds to give the couple a standing ovation. He praises Will, telling him he stepped it up. Nigel tells both Will and Amelia that they're lucky they got contemporary, each other, and a good choreographer.
During the results, Will was announced safe due to his hip-hop in Week 1.
Week 3 (July 25, 2012)
Edit
In the package, the dancers must reveal something America doesn't know about their partners; Amelia reveals that Will 'wishes he was in a boy band' and that he sings constantly, especially in car rides on their way to rehearsals, despite the fact he is not very good (Will reveals that Amelia carries around sun-screen all the time to maintain her pale complexion).
Will and partner Amelia danced a jazz by Mandy Moore to "You!" by The Creatures. Guest judge Christina Applegate praises the pair, telling them they are the dream team because they are both amazing and have great chemistry. Nigel disagrees, telling them he didn't feel at all and felt that they didn't really connect. But Nigel tells Will that he's got a great personality. Mary tells the pair that they did very good but it wasn't as good as the past routines they've danced.
During the results, Will was announced safe due to his contemporary in Week 2.
Week 4 (August 15, 2012)
Edit
In the package, the dancers must share their favorite moments from the show. Will shares that his favorite moment was when Nigel got kidnapped by the dancers during the Top 20 group routine in Season 4.
This week's theme required dancers to perform past routines by Mia Michaels. Will and partner Amelia danced a contemporary to "Koop Island Blues", which was originally performed by Evan Kasprzak and Randi Evans in Season 5. Both Nigel and Mary believed that Will was a little over-the-top with the acting, but Mary says that she enjoyed the routine and believed his acting. Guest judge Billy Trevitt thought it was strong, endearing, and very musical.
During the results, Will was announced safe due to his jazz in Week 3.
Week 5 (August 22, 2012)
Edit
Will dances with all-star Kathryn McCormick dance a Bollywood choreographed by Nakul Dev Mahajan to the song "Ooh La La". Mary praises Will for having so much energy during the dance, yet having so much control over his moves; she says he is one of the most likable men in the competition. Guest judge Benjamin Millepied says he enjoys Will's style of dance and that Will is a very engaging and charming dancer. Nigel says he loves that Will brings personality into all his dances.
During the results, Will was announces safe due to his contemporary in Week 4.
Week 6 (August 29, 2012)
Edit
In the package, the dancers must reveal how they came into dance. Will and his mother, Lori, remember how Will had so much energy in school, it often got him into trouble. To help release some of his energy and to help him lose weight, Lori enrolled Will in dance classes. Will claims finding dance helped him to find confidence and focus, allowing him to be more active in school, even being named Homecoming King his senior year of high school. Lori reveals that Will once told her that dance saved his life.
Every dancer dances twice this night, Will dances a solo contemporary to "Better Man". Will later dances a hip-hop routine with all-star Lauren Gottlieb, choreographed by Christopher Scott, to "Dance My Pain Away (District 78 Remix)". Mary praises Will for being able to show a much more serious side in this dance and notes on how controlled and precise he was for this dance; she tells him not to be shocked that he is still in the competition. Guest star Jesse Ferguson tells Will he is ridiculously adorable 'like an adorable puppy, covered in puppies that are adorable'; like Mary, he praises Will for showing such a serious side and claims Will's story of how he came into dance and how dance saved his life is a perfect example of why arts are so important in schools. Nigel says the routine was a very difficult one to perform and feels Lauren and Will were both wonderful in such a challenging dance and is the third person to praise Will on having such a serious side.
During the results, it is revealed Will was in the bottom 4 due to his Bollywood in Week 5 and is sent home.
Post-SYTYCD
Edit
After touring with SYTYCD, Will began his own choreography class in California.
Will's Twitter account can be found at: [1]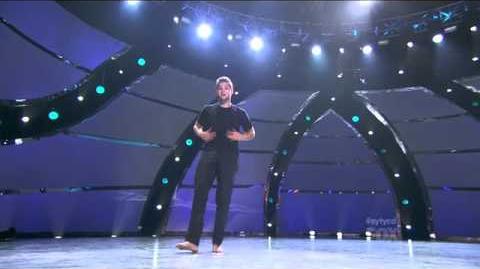 Will's favorite color is orange.
He strongly believes he is Simba from the Lion King.
He has always wanted to be in a boy band.
He was Homecoming King at Avondale High School.