Sean Cheesman is a Jazz, African Jazz, Broadway, and Commercial Jazz choreographer on SYTYCD since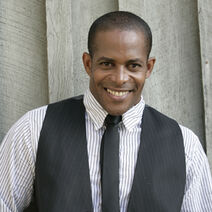 Season 6
. He was originally a choreographer on SYTYCD Canada.
Pre-SYTYCD
Edit
Cheesman was a figure skater and ice dancer in his youth. Cheesman was chosen for SYTYCD based on his work from SYTYCD Canada.
Choreography
Edit
Sean Cheesman's choreography is unlike that of any other jazz choreographers on the show.
Season 6

Week 3

African Jazz

"Frog Dance" - Mickey Hart and Planet Drum

Season 7

Week 1

African Jazz

"Norweg" from Saltimbanco

Week 4

Kathryn McCormick & Robert Roldan

Jazz

"Sinking Feeling" - Róisín Murphy

Jose Ruiz & Billy Bell

African Jazz

"The Hunt" - Mickey Hart

Week 8

African Jazz

"The Path" - Ralph MacDonald

Commercial Jazz

"Hide U" (John Creamer and Stephane K Remix) - Kosheen

Season 8

Week 1

Jordan Casanova & Tadd Gadduang

African Jazz

"Riding the Waves" - Afro Celt Sound System

Missy Morelli & Wadi Jones

Pop Jazz

"Judas" (R3HAB Remix) - Lady Gaga

Season 9

Week 1

Alexa Anderson & Daniel Baker

Jazz

"Hey Hey" (DF's Attention Vocal Mix) - Dennis Ferrer

Janelle Issis & Dariean Kujawa

African Jazz

"Jungle" - Hilight Tribe

Week 2

Janaya French & Brandon Mitchell

Broadway

"Bring on the Men" - Linda Eder

Season 10

Week 1

African Jazz

"Drumming Circle" - Professor Trane & The Energizers

Week 2

Makenzie Dustman & Paul Karmiryan

Jazz

"Mannequin" (Skeet & Tito Remix) - Trish

Week 3

Jazz

"Veins" - Charlotte Martin

Week 6

Broadway

"Kiss of the Spider Woman" - Jeffrey Huard & Chita Rivera

Week 9

Top 6

African Jazz

"Hlohonolofatsa" - Soweto Gospel Choir

Jasmine Harper & Aaron Turner

Commercial Jazz

"Mirror Mirror" - Lord KraVen