Dareian Kujawa
Season
Season 9
Hometown
Saint Paul, Minnesota
So You Think You Can Dance Profile
Partner(s)
Janelle Issis
Placement
Top 14
All-Star Profile
Dareian "Dare" Kujawa
was a contestant on
season 9
of
So You Think You Can Dance
. His genre is contemporary. He was eliminated on August 15, 2012.
Biography
Edit
Dareian grew up in St. Paul, Minnesota. He graduated from the Saint Paul Conservatory for Performing Artists in 2010. He first started dancing at the age of 3 at Larkin Dance Studio. At the age of 18, he moved out on his own to Las Vegas to try and pursue a career in dance.
So You Think You Can DanceEdit
Dareian first auditioned for season 9 in Salt Lake City, Utah.
Main article: Season 9 performances
Meet the Top 20 (June 27, 2012)
Edit
After hearing that fellow contemporary dancer Matthew Kazmierczak has made it through, Dareian is called in next. Lil' C tells him that they believe he's a powerhouse, followed by Nigel asking him if he's been working on his feet. Dareian replies that he's been trying. Lil' C then tells him that he's made it through. He dances a contemporary routine with Janaya French, Amelia Lowe, and Matthew. The piece was danced to "Modern Drift" by Efterklang and choreographed by Stacey Tookey. Mary praises Dareian that even though he's small, he's dancing so strong with power, strength, and partnering work.
Week 1 (July 11, 2012)
Edit
In the package, the dancers must describe themselves in nine seconds. Dareian is paired up with Janelle Issis and assigned an African Jazz by Sean Cheesman to "Jungle" by Hilight Tribe. Nigel praises Dareian and tells him he's such an exciting and unpredictable dancer. He also praises him for the fantastic pirouettes he did on the Top 20 group dance that opened this week's show. Nigel thinks both Dareian and Janelle will do very well in this competition. Mary says it was exciting and praises Dareian, calling him a 'little powerhouse' because he's strong, he's got intensity, and a great body line. Guest judge Kenny Ortega praises Sean Cheesman for the choreography, and thought it was exciting, cross-cultural, primitive, and universal.
Week 2 (July 18, 2012)
Edit
Dareian and partner Janelle danced a lyrical hip-hop by Christopher Scott to "My Girl" by The Temptations. Guest judge Adam Shankman tells the couple that this kind of choreography is the kind where getting into character is really important, and he thought that Dareian was more successful in selling the character than Janelle. Nigel tells the choreographer that it was a bit uninspiring because Dareian and Janelle are both capable of doing more than what Christopher gave them in this routine. Mary tells the pair that she thought it was sweet and they danced it okay.
During the results, Dareian was announced safe due to his African Jazz in Week 1.
Week 3 (July 25, 2012)
Edit
In the package, the dancers must reveal something America doesn't know about their partners. Dareian and partner Janelle danced a cha-cha-cha by Pasha Kovalev to "Call Me Maybe" by Carly Rae Jepsen. Mary praises the couple for the tricks they executed in the routine but tells them that there was no real chemistry between them and criticizes the pair for their rough transitions and feet. Guest judge Christina Applegate tells them she's aware it's not their genres, but they tried their best. Nigel gives Dareian constructive criticism on his feet, telling him what he was doing with them were the wrong style.
During the results, Dareian found himself in the Bottom 6 due to his hip-hop in Week 2. Dareian danced a solo to "Ordinary People" by John Legend. After some deliberation, the judges decided to save him.
Week 4 (August 15, 2012)
Edit
In the package, the dancers must share their favorite moments from the show. Dareian shares that his favorite moment was Kent Boyd and Neil Haskell's routine in Season 7. This week's theme required dancers to perform past routines by Mia Michaels. Dareian and partner Janelle danced a contemporary to "Dreaming With a Broken Heart", which was originally performed by Kherington Payne and Stephen "tWitch" Boss in Season 4. Guest judge Michael Nunn tells Dareian that his feet aren't quite there. Nigel praises Dareian, telling him it's the first time he saw personality in him. Mary agrees with Nigel, praising Dareian.
During the results, Dareian found himself in the Bottom 6. He danced a contemporary to "It's a Man's Man's Man's World" by Joshua Ledet. After some deliberations, Dareian Kujawa was eliminated from So You Think You Can Dance.
Post-SYTYCD
Edit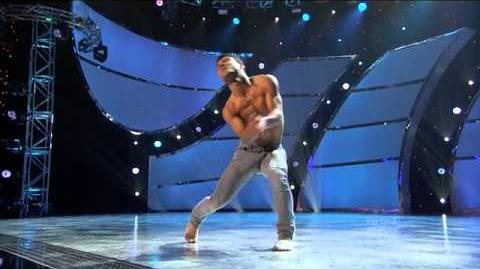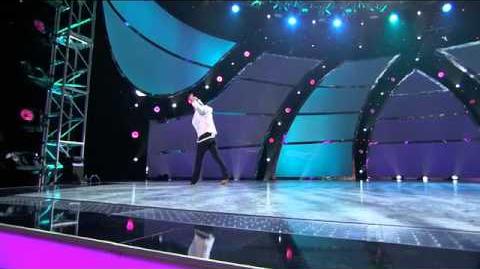 Dareian left home to join the circus.
He used to play hockey.
His favorite color is blue.
He can talk like Donald Duck.
Outside of dancing, he also skateboards.