Brandon Mitchell was a contestant on season 9 of So You Think You Can Dance. His genre is stepping. He was eliminated on July 25, 2012.
Biography
Edit
Brandon grew up in Kansas City. He graduated from Sumner Academy in 2003 and from Florida A&M University in 2009. He has been dancing since he was in 6th grade.
So You Think You Can DanceEdit
Brandon first auditioned for season 9 in Los Angeles, California.
Main article: Season 9 performances
Meet the Top 20 (June 27, 2012)
Edit
Brandon is sent in to hear the news of whether he made it through to the Top 20 or not with Devon, another stepper. Debbie tells them that although both did well through Vegas Week, only one of them will be able to make it through. She then welcomes Brandon into the Top 20. He dances a Martial Arts/Stepping/Animation routine with Cole Horibe and Cyrus "Glitch" Spencer. The piece was danced to "Revolve" by Nathan Lanier and choreographed by Christopher Scott. Mary praises the trio and tells them that they definitely "hit that out of the ballpark" with the routine.
Week 1 (July 11, 2012)
Edit
In the package, the dancers must describe themselves in nine seconds. Brandon is paired up with Janaya French and assigned a hip-hop by Tabitha and Napoleon D'umo to "Take Care" by Drake ft. Rihanna. Guest judge Kenny Ortega praised the choreographers and the pair, telling them that he felt the frustration, the struggle and the love of the dance. Nigel tells them that Tabitha and Napoleon smoothed it out for the pair, which he believed allowed them to get away with a few things. Mary tells Brandon that she loved how deep he went into character and made the routine completely believable.
Week 2 (July 18, 2012)
Edit
Brandon and partner Janaya danced a Broadway by Sean Cheesman to "Bring on the Men" by Linda Eder. Guest judge Adam Shankman praised Cheesman for the choreography and thought the dancers played the characters very well. He also praised Brandon, telling him he really got invested in his character. Nigel agrees with Shankman and told Brandon he was terrific. Mary tells them it was one of the most entertaining routines she's seen that night and told Brandon he stepped it up from last week. She praised him for his acting, his energy, and his ability to entertain people.
During the results, Brandon was announced safe due to his hip-hop in Week 1. His partner Janaya, on the other hand, was eliminated earlier that night.
Week 3 (July 25, 2012)
Edit
In the package, the dancers must reveal something America doesn't know about their partners. Brandon and his new partner Amber Jackson danced a jazz by Ray Leeper to "Dr. Feelgood (Love is Serious Business)" by Aretha Franklin. Guest judge Christina Applegate praises Brandon, telling him he was incredible, strong, and always there for Amber. Nigel praises Brandon, but also tells him to lower his shoulders because he dances with his shoulders up.
During the results, Brandon found himself in the Bottom 6 due to his Broadway in Week 2. Brandon danced a solo to "I Want It All Back" by Tye Tribbett & G.A. After some deliberation, Brandon Mitchell was eliminated from So You Think You Can Dance.
Post-SYTYCD
Edit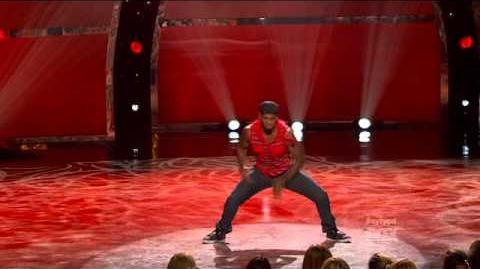 Brandon is the first stepper to make it into the Top 20.
He is part of the main crew in the film Step Up: Revolution.