Amber Jackson was a contestant on season 9 of So You Think You Can Dance. Her genre is contemporary. She was eliminated on July 25, 2012.
Biography
Edit
Amber was born and raised in Atlanta, Georgia where she first started dancing at the age of 14 at the esteemed Ballethnic Academy of Dance and simultaneously at DeKalb School of the Arts. Later, Amber enhanced her dance technique at the prestigious Dancemakers of Atlanta studying Ballet, jazz, modern, contemporary, pointe, hip-hop, and jazz. 
So You Think You Can DanceEdit
Amber first auditioned for the show during season 6, where she made it as fast as the Green Mile round but failed to make the Top 20. Amber once again auditioned for season 7, where she got cut some time during Vegas Week. She then returned to audition for season 9.
Main article: Season 9 performances
Meet the Top 20 (June 27, 2012)
Edit
Amber is delivered the news that there are many talented contemporary dancers this season, so the judges tells her she makes it through. She dances a contemporary routine with Alexa Anderson, Will Thomas, and George Lawrence II. The piece was danced to "We Found Love" (BBC Radio 1 Live Lounge) by Jessie J. and choreographed by Tyce Diorio. Amber is called a star by Nigel and he tells her she looked beautiful and fantastic. Guest judge Zooey Deschanel praises the group for their teamwork.
Week 1 (July 11, 2012)
Edit
In the package, the dancers must describe themselves in nine seconds. Amber is paired up with Nick Bloxsom-Carter and assigned a Viennese Waltz by Jason Gilkison to "Nights in White Satin" by Tina Arena. Mary thought the whole thing was dreamy and that Amber was able to create fantastic movement. Guest judge Kenny Ortega thought it was fluid, flowing, and lovely, and praised Jason for the design of the choreography. Nigel thought Amber good but tells her to use her core. Though all in all, he hopes both of them make it through.
Week 2 (July 18, 2012)
Edit
Amber and partner Nick danced an Argentine Tango by Miriam Larici and Leonardo Barrionuevo to "Tanguera" by Sexteto Mayor. Guest judge Adam Shankman praises Amber, telling her she was fully immersed in the character and he was mesmerized by her. Nigel reminds her to make sure to open up this kind of personality onto her other routines and get into character as well as she did here. Mary recognizes the difficulty of the routine and praises the couple for making it look so easy.
During the results, Amber was announced safe due to her Viennese Waltz in Week 1. Her partner Nick, on the other hand, was eliminated later that night.
Week 3 (July 25, 2012)
Edit
In the package, the dancers must reveal something America doesn't know about their partners. Amber and her new partner Brandon Mitchell danced a jazz by Ray Leeper to "Dr. Feelgood (Love is Serious Business)" by Aretha Franklin. Guest judge Christina Applegate praises Amber first, telling her that that was the best she's seen her dance. Mary tells Amber that she showed a soulful and sultry performance, something the judges have been telling her about ever since she auditioned. Nigel agrees with Mary, telling her that they've been trying to get her to show performance and with this, she did.
During the results, Amber found herself in the Bottom 6 due to her Argentine Tango in Week 2. Amber danced a solo to "This Is What Makes Us Girls" by Lana Del Rey. After some deliberation, Amber Jackson was eliminated from So You Think You Can Dance.
Post-SYTYCD
Edit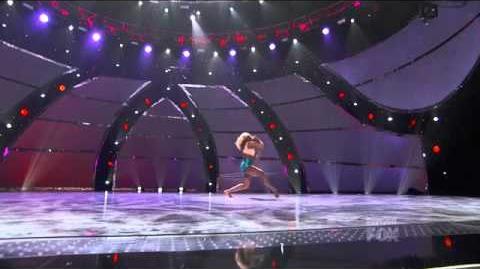 Amber used to run track.
She is a hairstylist.